Leaked Xbox controller to feature DualSense-like haptics, rechargeable batteries
Microsoft is working on a major revamp to the Xbox controller. The information comes from slides shared with the court as part of the company's legal battle with the FTC. The leaked document features detailed plans of Microsoft's hardware division.
The new controller is codenamed Sebile, and the most interesting thing about it is that it's going to follow the DualSense's lead in implementing haptic feedback. Like the PS5 controller, the next Xbox controller refresh will also feature VCA haptics (speakers), and an accelerometer.

To see this content please enable targeting cookies.


Microsoft is also planning to ship rechargeable (and swappable) batteries with the controller, which is a good idea, considering how taxing the new features are going to be on standard AA batteries. Outside of expected features, like an updated Bluetooth standard, Sebile will also include modular analogue sticks to improve longevity.
You can also expect quieter buttons, and a smartphone-like feature that allows the controller to be woken up when lifted. Sebile is pencilled in for a summer 2024 launch, late-May or early June.
Microsoft is also working on a refresh of the Xbox Series X, codenamed Brooklin. The new console does not offer any upgraded power, but it comes with 2TB of built-in storage, a more eco-friendly redesign, and WiFi 6E.
The big news is that Brooklin does not have a disc drive, meaning it's going to move Xbox officially into a digital-only future. The console refresh is planned to launch at the same current price of the Series X – $500.
Outside of where the documents originated from, what gives these particular plans more credibility is the fact they reference announcements that have already been publicly made. On a slide showing the future of the Xbox brand's hardware releases, we see Ellewood – which is the 1TB Xbox Series S announced in June.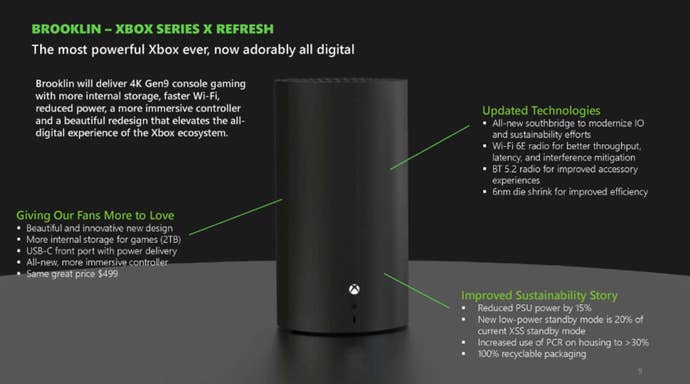 However, the plan was seemingly originally to announce both consoles simultaneously, with Series S Carbon Black releasing in September 2024, and the Series X refresh following on in November. The Series S refresh has instead landed in September of this year, and the Series X refresh has yet to be officially announced. That said, there's still time in the year for Microsoft to announce/release Brooklin properly.
It's also worth keeping in mind that the Series S refresh was planned to cost $300, but ended up retailing for $350. It's clear these slides are a bit old, and may have been produced before Microsoft raised Xbox Series X prices in several territories (though not the US).
As always, plans do change, and have in this case, at least. So it's worth taking the news with a pinch of salt.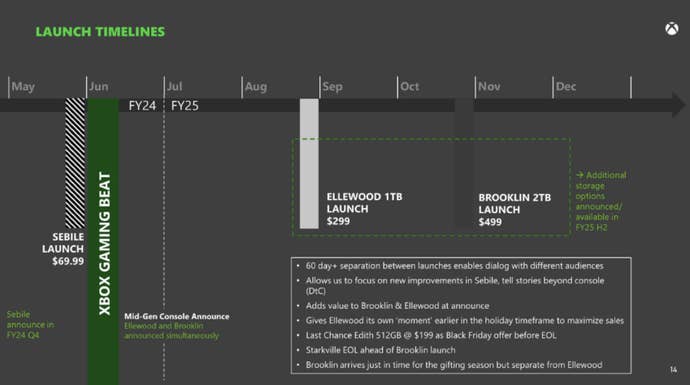 As part of the same leak, we also learned that Microsoft continues to seriously consider buying Nintendo. Beyond pie in the sky plans, the Microsoft-owned Bethesda label appears to be working on Oblivion and Fallout 3 remasters, alongside Arkane's Dishonored 3.